Happy Villa
Villa Caprice Marbella - a romantic hideaway!
The villa Caprice, charmingly Spanish in style with a distinct Andalusian design, is located in the hills of Marbella. It is fully equipped with every amenity one would need and ready to welcome you for a carefree and restful holiday by the sea. Your perfect secluded holiday retreat!
Located just 5 minutes from the famous beaches of the Costa del Sol, Villa Caprice is nestled in the chic neighborhood of Rocio de Nagueles and offers complete privacy and serenity, while also being within easy distance of the famous Marbella Club, the yacht harbors of the jet set Puerto Banus, trendy shopping areas that delight the rich and famous! Not to forget there is the picturesque artesan street market on Saturday morning at the Nueva Andalucia Bullring. The city center is a 5 minute drive and so are the beaches. The enormous shopping mall La Canada is a 5 minute car ride from the villa.
Stunning Private Pool
The highlight of villa Caprice is certainly the stunning private pool, surrounded by an elegant terrace area and mature gardens and waterfall The BBQ is right next to the pool so you can frolic in the water get out ,dry up and have something to eat, then jump back in the pool etc. The pool area is fully supplied with outdoor lounge furniture, cushions and parasols . This large swimming pool will surely be the center of your summer vacation! In addition to the pool, there are 3 separate outdoor terrace areas, fully furnished with tables and chairs for those moments when you want to escape the sun! A special feature of the spacious outdoor lounge area is a large private bar, located within easy distance for refreshments whilst lounging by the pool! An outdoor built-in barbecue is also located by the pool. We grow all sorts of fresh fruit and veggies, like tomatoes, avocadoes, mangoes, figs and lemons. The bougainvilleas are the biggest attraction in the garden with their unforgettable purple/pink colors.
Villa Caprice is perfect for a big family or friends on holiday together. There are 2 wings that meet in the large center lounge area. There is enough space that allows for privacy. Both wings have their own private terrace area.
Property Details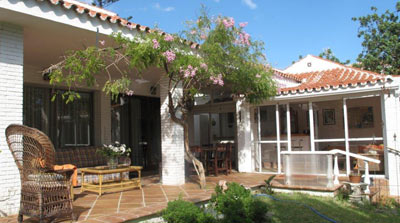 Villa Caprice is delightfully appointed with every amenity one would need and ready to welcome you for a carefree and restful holiday by the sea. This accommodation is easily accessible for slightly physically impaired people, as it is all on ground level. There are 5 bedrooms and the villa sleeps up to 10 people. All linens and hand towels as well as beach towels are supplied.
The villa has all modern conveniences including Wi-fi all over the house, a satellite connection, Video, DVD, and sound system.
Amenities & details for villa caprice as a BB location or villa
Air Conditioning in master living room
Dishwasher in both kitchens
Dryer in master kitchen
DVD Player in master living room
Fridge and freezer in both kitchens
Garden 1000 m2 – (secluded )
Oven/grill in both kitchens
BBQ in garden
Internet Access Wi-fi all over the house
Hairdryer in each bathroom
alarm clock /radio in each room
Iron available on request
Water boilers and coffeemakers in each kitchen
Linen Provided

Microwave in master kitchen
Mountain View from garden
Outdoor Dining Area, everywhere around the house are tables and chairs
Private Pool
Refrigerator in both kitchens and the bar
Safe - only in Marisol master bedroom
Satellite TV
Radio/cd player
All over the garden are terraces
Toaster in both kitchens
Towels Provided ( hand and beach towels)
TV in each room except the Nina
Washer in bar and main kitchen
Property details in the Villa Caprice

THE MARISOL is the master bedroom and offers a 2 x 2 meter comfortable bed. It has large en suite bathroom and a walk in closet. The big bathroom includes 2 sinks, full bath, bidet and a shower. Connected to the MARISOL is a smaller room called NINA, which has two single beds. Together, they are perfect for a family with two kids or four close friends, as they have to share one large bathroom with each other.
The entire unit of Marisol and Nina consists of a large living room and dining area for up to 8 people. The master kitchen and garden terrace belong to this unit as well. There you can find a round marble table, where also up to 10 people can have a meal. In the living room there is an airconditioner and all other rooms are equipped with fans in summer or heaters in winter.
Rooms in the east wing of the house
Here the villa has 3 rooms : Don Quixote and Dulcinea with king size beds, tv, wi-fi and a cozy atmosphere, and Casanova with two single beds.
The Don Quixote and Dulcinea each have their own large terrace with the necessary garden furniture to have family gatherings or meals at.
.

Don Quixote
A big room with sliding doors leading to a terrace outside. It has amost comfortable 2 x 2 meter bed, easy chairs, television, wi-fi and large mirrored wall. This room shares a fridge together as well as a small kitchen with 'Dulcinea'.
Dulcinea
A spacious room next door to the Don Quixote with a king size bed, some comforable chairs, a little desk in case you want to use your laptop or apply your make up There is wi-fi and a television in the room as well.
Casanova

This spacious room has no terrace, two twin size beds and a huge linen closet; perfect for two children or adults.
Kitchen, Bathroom and Shower
The villa has 3 bathrooms each with a full bath and toilet and sink. Only the Master bathroom at the Marisol corner has two sinks and a bidet.

There is a smaller kitchen area in the southern wing which is is equipped with an oven, fridge, dishwasher and coffee- and tea-maker. This kitchen is basically for the use of the guests from the don Quixote and Dulcinea rooms.

PRICES FOR THE VILLA FOR UP TO 11 PEOPLE
We prefer it to rent this Villa Caprice for the duration of one week minimum and from saturday till Saturday.
RATES in 2013 - 2014
| | | |
| --- | --- | --- |
| Period | Price per week € | Price per day € |
| November 1 - April 12 | €2000 | €285 |
| April 13 - June 28, 2014 | €2500 | €357 |
| June 29 - August 30, 2014 | €3250 | €465 |
| August 31 - November 8, 2014 | €2500 | €357 |
| November 9 - April 12, 2015 | €2000 | €285 |
| April 13 - June 28, 2015 | €2500 | €357 |
Payment terms:
50% upon booking and 50% to be paid in cash upon arrival at the villa . Payment can occur either by bank transfer or by using one of the major credit cards.
There is a euro 400 deposit to be paid in cash upon arrival to our manager, which amount will be returned to you, when you are leaving and there are no damages done to the property.
In order to make a reservation for our villa, we will need your full name and address details as well as phone numbers and email address.
Also your credit card number and expiry date is essential for us to proceed further with the booking process.
Special Notes

Location
Our address can be found via google earth Route to Villa Caprice, Calle Pizarra 184 , Rocio de Nagueles, Marbella
http://www.xavierahollander.com/location-marbella

Services
If needed, our staff can pick up 3 guests from the airport for euro 70 or drive them back to the airport on their way home for the same fee of euro 70 .

check in time is after 3 p.m. check out time is before 11 a.m.

Cleaning once a week is complimentary, but if you want the place to be cleaned within that period the fee is euro 10 per hour.

If you wish the staff is available to babysit or help you shop or even take a short tour, it is also possible to have a lovely meal cooked at the villa, by Theo. All for the price of euro 10 per hour. Please get in touch with Theo about that.

Terms & Conditions
This accommodation is a ground floor villa which is also accessible for people who are slightly physically impaired.

One pet is welcome, no more than just one little animal. Please consult with the owner first and look after your animal, so it doesn't do any damage to our garden or furniture.

Garbage bags should be left by the entrance to the house so Theo can take them to the container.

Please do not leave food open on the counter or garbage bags open as they may attract insects


Try and keep the kitchen area clean in particular.


Contacts

Yuri, our manager who speaks mostly Spanish and Russian and a some English, can be reached at Spanish home phone 00 34 952 857575 or his mobile 0034662141522 or Theo, who speaks more English, Dutch and German, can be reached also at the house phone or his mobile 00 34 667963412
We MUST let you have these numbers as the Spanish phone system often does not really function well, since we live a bit up in the hillside. So one of these numbers will always function. If there are any problems, do not hesitate to contact Xaviera herself in Amsterdam tel: 00 31 20 6733934 or email This email address is being protected from spambots. You need JavaScript enabled to view it.