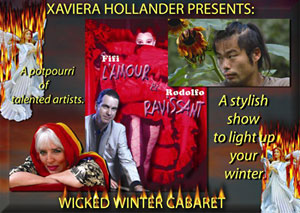 Xaviera Hollander presents:
WICKED WINTER CABARET
A potpourri of talented artists.
A stylish show to lighten up your winter
FIFI & RODOLFO
pluck your heart strings, get your feet tapping,
and have you roaring with laughter.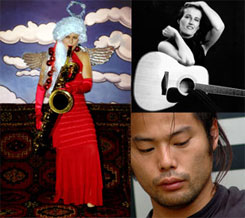 WILD & SAXY
on guitar and saxophone sing and swing the craziest Xmas evergreens, with new lyrics and modern grooves & naughty songs from the Fifties.
CLASSIC SM
a classical repertoire of wicked interpretations. Never have notes and whips had such a delightful ring.
KENZO KUSUDA
On Xmas Eve : special guest Kenzo from Tokyo at THE ARENA!
Multi talented contemporary dancer. Absolutely breathtaking and poetical.

The evening will be more than gezellig:
IT WILL BE GREAT!!
Come and experience this sparkling variety show!
Xaviera Hollander presenteert:
A WICKED WINTER CABARET
Voor U treden op:
Een potpourri van verschillende getalenteerde artiesten.
FIFI L'AMOUR & RODOLFO RAVISSANT
met een ontroerende, sexy en vrolijke show die uw ziel zal beroeren, uw voeten laat dansen en uw hart doet lachen, de extravagante kostuums en enthousiaste muziek zijn een lust voor oog en oor.
Miek Miek WILD & Felixa SAXY
brengen met sax en gitaar een muzikale parade vol nieuwe en bizarre Kerstliedjes. Hun ondeugende teksten en stoute liedjes uit de jaren vijftig maken deze avond een onvergetelijk gebeuren.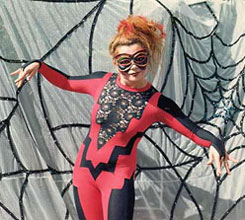 CLASSIC SM
biedt een mélange van klassiek repertoire met hun eigen bijzonder ondeugende en grappige interpretatie door Charlotte Beukers ( sopraan) en Margreet (mezzo sopraan) op de piano begeleid door Piet van de Broek.

Op Kerstavond heeft Xaviera als Speciale Gast: in Hotel ARENA : KENZO KUSUDA uit Japan. Het werk van deze adembenemende danser/choreograaf munt uit in een poëtische sensitiviteit .