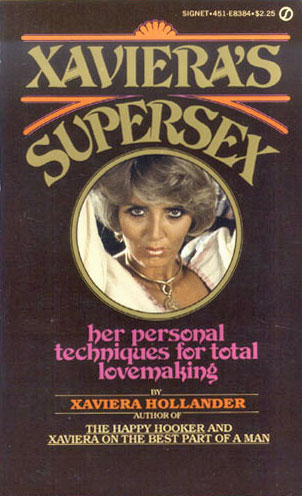 THIS IS THE BOOK THAT BRINGS HER FABULOUS EROTIC CAREER TO A ROUSING, UNRIVALED CLIMAX!
Xaviera's Supersex
Xaviera Hollander proves that practice makes perfect, and she's gone all the way to make this luscious, ultra-erotic book on the art of lovemaking her crowning achievement.

Here is the most intimately knowledgeable tour through the world of sex ever offered by someone who has has tried it all and loves to tell about it.

Here you will find all your heart (and other parts of your body) could desire in learning how many sensual possibilities are available to men and women of every sexual taste and level of experience.

Here, in fact, is the great new, lavish bedside companion that is the next best thing to having Xaviera there herself!
Xaviera Says:
A logical follow up of "The Best Part of a Man" is this manual for total lovemaking. This book gives an insight to fantasies, technical know-how, suggestive positions (in or out of bed), twosomes, threesomes, foursomes and moresomes, how to cure your sexual hang-ups, and all in all the perfect guide to free lovemaking! Beautiful sketches throughout the book make Supersex an item you'd like to have on your coffee table!