Dear friends and fans. I have written an exciting easter newsletter with a naughty story about a film celebrity, metoo versus prudery and moving poems and videos. Read all about it in my
Easter 2023 Newsletter over here
. Love Xaviera
I gave a marvelous birthday this summer with gypsy music and Dance! The band "The primas Tocila" from Csavas, in Transylvania, Romania, brought everybody in the right gypsy mood during this hot summer afternoon. Just now I returned from a great three weeks stay at the Edinburgh Fringe Theatre Festival, with my man Philip.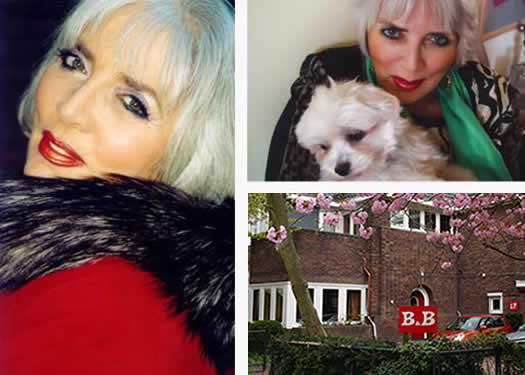 Xaviera Hollander
The most famous madame of the world's oldest profession, author, Penthouse columnist, legend, performer, raconteur, and theatrical entrepreneur. Xaviera has a fast mind and patient ear to listen to peoples problems, especially since she wrote a world-famous monthly sex advice column for Penthouse for 35 years. Xaviera herself, happily married since 11 years, has all the more reason to be "happy". With her energetic speeches and conferences (Dutch & English) full of humor and wisdom she knows how to share happiness and humor with her public in a naughty way, but never vulgar. More about Xaviera >>
Xaviera hosts Amsterdam B&B
Sex without humor does not exist for her. Xaviera and her charming husband are the hosts who speak 5 languages at this colorful bohemian B&B in Amsterdam's Goldcoast. There are trendy shops, restaurants, and museums like the Rijksmuseum and van Gogh museum around the corner. The well known RAI Congress Centre and Albert Cuyp street market are all within walking distance. Public Transportation is easily accessible from the B&B. More B&B info >>
Amsterdam has so much to offer...
Xaviera's Happy House B&B attracts an interesting crowd of people from all over the world. Apart from the cozy city life of Amsterdam, there are dozens of other things to discover in or around Amsterdam, as a visit to the Keukenhof (a spectacular world renown flower exhibition), de Zaanse Schans with authentic windmills and a cheese factory.