Dear friends,
This time, something unexpected from me: a short newsletter.

These days I'm very busy with my theatre production: "STRIPPED" featuring HANNAH CHALMERS: A one-woman show in my home in Spain. I'm delighted to present this theatre production to entertain those that appreciate the dramatic arts.
Article in The Olive Press and Article Xaviera in The Olive Press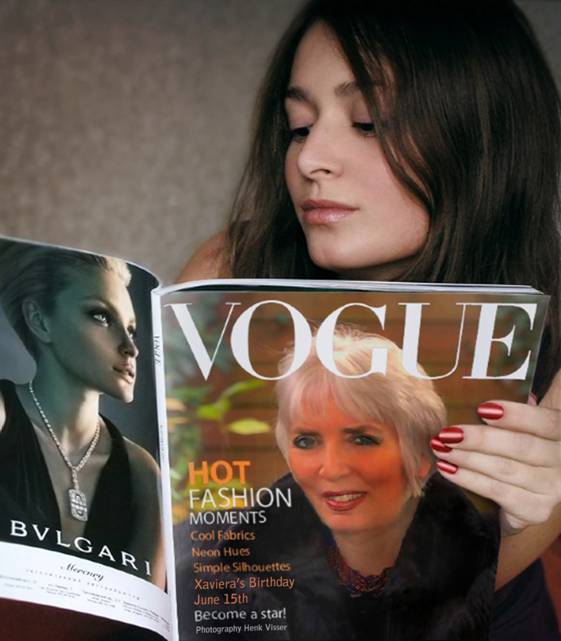 In the above links, you can read two favorable articles written in the same week in the Olive Press, which is quite new and fresh on this coast, as well as the rest of Spain. Additionally, another major interview is soon to appear in this same publication. Apparently, they have many handsome, young and charming journalists who like to lay their hands on me... in a literary sense. When interviewing me, they tend to chuckle and laugh with amusement. One nearly suffered from writer's cramp as he was writing so much so quickly that he could barely follow my words. He now wants to expand that small interview into a major article for a well-known Glossy in Spain. I feel blessed to have such support.
Article in Marbella Eye and article CBC Books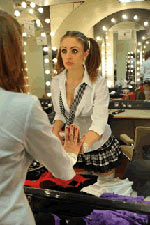 The positive press articles seemed to generate a great deal of interest. My phones have rung off the hook. Bookings are coming in and excitement is in the air. Meanwhile, I am calling friends and visitors who do not always receive my email invitations. It is truly annoying that I spend a fortune on webmasters and phone bills to keep me up and running, yet efforts like mass mailings are not so efficient. This requires me to spend many days and nights calling my visitors that are likely to be keen to attend these fabulous productions and receive newsletters. A further difficulty is that many people seem to change their email addresses and providers more than they change their phone numbers. I worried that I lost contact with so many in my mail-list. I feel fortunate that I have reached about half. Read more & Tickets >>
FUN STUFF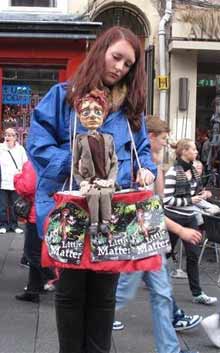 Some humorous phone calls here and there. Especially from a group of twenty mature women from one of the fanciest parts of the Costa del Sol - Soto Grande with its grandiose villas that house many "Desperate Housewives". They want to come en masse to STRIPPED. It will be so much fun to watch them giggle their way through the show and then continue the merriment afterwards at our lovely bar that features my wonderfully engaging husband and some friends tending to the revelry of their "girl's night out".
Another night, mostly men booked. When they asked if STRIPPED is a porno film, I answered, "NO, it's real life… her life. A naughty, one-woman theatre play where the actress, who is also the playwright, portrays her true life-story as a pole dancer and stripper.
Curiously, a man asked me, "Does she take her clothes off?"
"Not really, although she is quite scantily dressed," I answered.
"What a pity!" the man replied. "Ah… well, book me fifteen seats - front row! If that's the case, at least I can take my somewhat prudish wife along as well!"
FEELINGS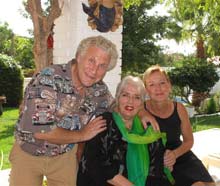 Now that's why I like showcasing plays of various genres: holocaust, Sholom Aleichem Jewish comedy, gay, straight, Jacques Brel and Piaf, drama... as long as it strikes an emotional chord within me and ultimately, the audience.
Philip, my remarkable husband of six years, is more than just the right-hand man in my life. He is more or less EVERYTHING as he orchestrates life so easily. He feeds me, does the shopping and is an excellent cook who even managed to feed me twenty kilos thinner than last year. Philip looks after our daily needs and me while I am mostly glued to the computer, barely making time for a once-a-day healthy swim.
PHONE
My umbilical cord to the rest of the world. The phoning begins a few weeks before each show starts. Philip helps set up the stage, connects the sound and light equipment, picks up the actress or actor from the airport and then the two of us generally care for our stars like little jewels.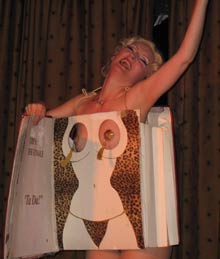 Networking is my middle name. I don't feel complete if flyers are not within my reach to hand out to the interested public. It is the evening calls, in particular, that form the most fascinating part of the promotions. It is very gratifying when I hear a lonely or depressed sounding person on the other end of the phone line perk up when I introduce, or in many cases, re-introduce myself to them. I can actually hear them think for a moment and then, suddenly, remember reading one of my books or recalling the lovely play they saw recently or a few years ago at my home theatre.
Such are the delights of opening my lovely villa, surrounded by lush greenery and prominently displaying an awe-inspiring, professional podium with fifty theater chairs neatly set up around the stage, complete with black curtains and mood lights.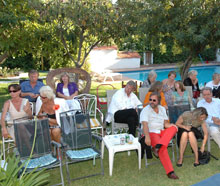 The ambience of a cozy vibe when old friends meet each other again, some after many years, is heart-warming. The Villa Caprice Theatre seems to have become a sort of social club for theatre and music lovers, if only for four to five nights every six months.
As long as my loyal visitors spread the word and ask their friends to come along, I will continue to bring great talents to the Villa Caprice stage. I hope that this endeavor will snowball… although; snow is the furthest thing from our minds on the Costa del Sol of Spain.
As Always love,
Xaviera