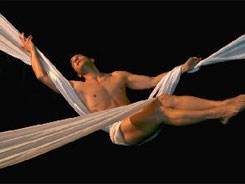 Xaviera Hollander has been producing theatre productions for 10 years. Xaviera Hollander, the most famous madame of 'the world's oldest profession,' author, Penthouse columnist, legend, performer, raconteur is also a theatrical entrepreneur.
Over the past years she has produced a wide range of theatre productions in The Netherlands and in Spain. Xaviera has just finished producing: Richard Fry with Smiler and The Ballad of the unbeatble hearts in her Spanish Home theatre early October; and in Amsterdam and the Hague by mid November 2012.
Xaviera Hollander is temporarily taking a break from producing theater shows. Instead, she offers her own home entertainment by inviting groups of up to 12 people to come and "dine and wine in her Amsterdam Happy House", in combination with her famous workshops. Here she will, after a nice meal, cooked by her adorable husband Philip, teach you THE ART OF LOVEMAKING, or in short" the DO's and DON'ts of sex." These lessons are based on her yearlong experience as a sex advisor ih her monthly column CALL ME MADAM for Penthouse Magazine and her book "the Happy Hooker's Guide to Sex: 69 orgasmic ways to pleasure a woman.
THE BALLAD OF THE UNBEATABLE HEARTS and SMILER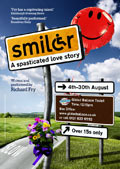 Xaviera Hollander presents two great new one man plays written and performed by Richard Fry: SMILER - A SPASTICATED LOVE STORY based on his own experience with a young man who became paralyzed from the neck down after a massive drunken hit and go driver accident almost killed him.
Then there is a haunting story THE BALLAD OF THE UNBEATABLE HEARTS also based on some of his own experiences about the high amount of suicides amongst teenagers as a result of being bullied once they had come out of the closet that they were gay. Read more >>
One woman show: Stripped, starring Hannah Chalmers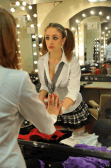 Ever wondered what goes on behind the scenes in the dark, deceiving world of the Strip Club? STRIPPED reveals all in this wickedly funny, achingly honest and beautifully shrewd one woman show. Based on shockingly real characters and exploits from Hannah's pole dancing days.This show will make you laugh, cry, cringe and be touched (but that may cost extra!), as boundaries are pushed, rules broken, relationships abused and dignity tested, as the men pursue sex and the women compete for money in this gender struggle for power read more >>
Chansons, american standards & Jazz by Micheline and Frank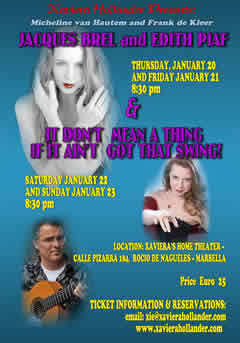 In the first show 'Brel & Piaf', Micheline sings: La vie en rose, Milord, Padam en La foule, alongside her favorite Jacques Brel songs: Bruxelles, The Old Folks, Amsterdam, and the lovely Marieke.Accompanying Micheline is the fabulous guitar player Frank de Kleer - a multi talented and a super witty artist.
The second program is an evening filled with American standards: 'It Don't Mean a Thing if it Ain't Got That Swing.' Micheline lived for ten years in Manhattan and was inspired by Cole Porter, Gershwin and Charlie Chaplin. She makes a mélange of their repertoire with songs from: The Singing Detective: Don't Fence Me In, The Man I Love, Teddy Bear's Picnic, Accentuate the Positive and Smile. She will take you to smoky bars and jazzy nightclubs, tell stories about the writer, the singer or the song and bring back memories of the 30s and 40s. Frank de Kleer will also accompany Micheline on guitar in this show. Information >>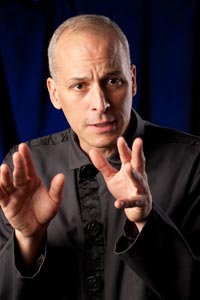 American actor and playwrighter, David Natale brings home a seldom-remembered story of the Holocaust in Holland with his award winning oneman show: The Westerbork Serenade. The camp commandant's pet project was a weekly cabaret show at Westerbork. It featured top Jewish entertainers from Germany and Holland. Mr. Natale seamlessly portrays more than 15 characters; including German director, Max Ehrlich, actress Camilla Spira, Commandant Gemmeker and the beloved Dutch singing duo, Johnny and Jones. Read more>>
He bought a ticket, jumped on a plane and set off. No Rough Guide in the world could have prepared him for the consequence... From the moment his plane lands in Caracas (without his luggage) we're on a roller-coaster ride down unexplored tributaries of the Amazon. Read more >>
Tallulah and the boy
If time travel were possible, Xaviera would reach back to the early part of the last century and bring you Tallulah Bankhead- the Legend. And what a legend she was! Brash, ribald, outrageous, outspoken and an exhibitionist, she was also known for her generosity toward her friends and kindness to animals and children. She was a party favorite for outlandish stunts such as doing cartwheels in a skirt with no underwear or entering a soiré stark naked. Read more >>
Sholom-Aleichem - Now You're Talking by Saul Reichlin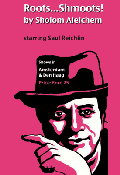 A unique one- man dramatisation of the poignant, hilarious, classic stories from the creator of the beloved Fiddler on the Roof. For the festive season, life affirming and timeless, this superb presentation is abundant in the wisdom and humour of the shtetl.
In his celebrated telling of these funny, touching, forever optimistic tales of yesterday, Saul entices us back to what one critic referred to as a 'lost world of poverty, foolishness, misfortune, and the love of life'. Read more >>
Continental Carousel

A fabulous musical cabaret evening with Fifi l'Amour and Rodolfo Ravissant. This charming, brilliant and uproariously funny duo has worked 14 years together presenting cabaret throughout Europe, Britain and Australia.Their enormous repertoire covers English, French, German, Italian, Spanish and Eastern European music. Fifi, la chanteuse, explores the gamut of human emotions covering the tragic to the hilarious- and she directly engages the audience with her enthusiasm and colorful costumes. Read more >>
Bill Bowers - It Goes Without Saying
IT GOES WITHOUT SAYING is an autobiographical solo play that takes the audience on a scenic tour of Bowers life and career, from growing up gay to outrageous survival jobs to the whirlwind of working on Broadway. In addition to the journey of becoming an artist, IT GOES WITHOUT SAYING chronicles the experience of surviving the Aids crisis in New York City and the silence that existed within his experience of caring for and losing his partner to Aids.Read more>>